WORLD RECORD BASS FISHING NEWS AND UPDATES ON CURRENT AND POTENTIAL WORLD RECORDS


IT'S OFFICIAL! Congratulations To Manabu Kurita. World Record Holder!



The International Game Fish Association today rocked the bass fishing world by announcing a new world record or co-world record caught by Manabu Kurita of Japan. The fish ties the all-tackle record for largemouth bass held for 77 years by George Perry of Georgia.

The announcement came after six months of deliberation by the IGFA.
Here's the press release isued today by the IGFA in Florida:
Today the IGFA approved Manabu Kuritas application for the fish caught from Japans largest lake on July 2, 2009. The 70-year old non-profit fisheries conservation, education and record-keeping body, received Kuritas application and documentation on Sept. 19, 2009. The largemouth bass (Micropterus salmoides), was caught from Lake Biwa which is an ancient reservoir northeast of Kyoto.



Kurita, 32, of Aichi, Japan, was fishing Biwa that July day using a Deps Sidewinder rod and a Shimano Antares DC7LV reel loaded with 25 lb Toray line when he pitched his bait, a live bluegill, next to a bridge piling. It was Kuritas first cast to the piling where he had seen a big bass swimming. He only twitched the bait a couple of times before he got bit. After a short, three minute fight he had the fish in the boat.
Kurita was quoted as saying �I knew it was big, but I didnt know it was that big.
But big it was. Using certified scales, his fish weighed in at 10.12 kg or 22 lb 4 oz. When measured, the fish had a fork length of 27.2 inches and a girth of 26.7 inches. The IGFA only has line classes up to 20 lb for largemouth bass, so Kurita had no chance at a line class record as well.

IGFA rules for fish caught outside the U.S. allows anglers 90 days to submit their applications from the date of their catch. The documentation was received through the IGFAs sister association the Japan Game Fish Association (JGFA). IGFA conservation director Jason Schratwieser said Kuritas application was meticulously documented with the necessary photos and video.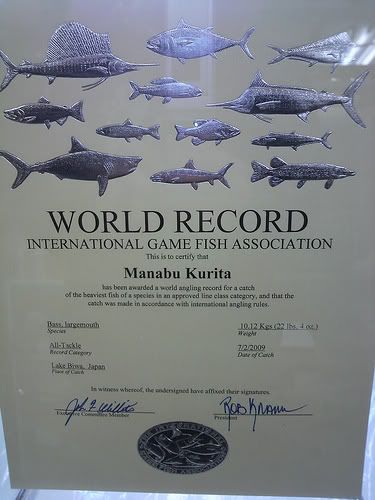 Kuritas fish ties the current record held for over 77 years by Perry who caught his bass on Georgias Montgomery Lake, June 2, 1932, near Jacksonville, Georgia. That 22 lb 4 oz behemoth won Field and Stream Magazines big fish contest and 46 years later, when the IGFA took over freshwater records from Field and Stream, it became the All-Tackle record now one of over 1,100 fresh and saltwater species the IGFA monitors.
IGFA All-Tackle records are now free for viewing by the public at igfa.org. Kurita�s name is now on the IGFA Web site with that of Perrys and will appear in the 2011 edition of the World Record Games Fishes book. unless that record is broken this year.

The IGFA announced the decision at its headquarters with a live video feed carried on Bassmaster.com, one of the most popular fishing Web sites in the world and the official site of the Bass Anglers Sportsman Society (BASS).
In North America the largemouth bass, and especially the All-Tackle record, is considered by millions of anglers as the holy grail of freshwater fish because of its popularity and the longevity of Perrys record. That fish undoubtedly helped to spawn a billion dollar industry that today makes up a significant part of the sport of recreational fishing.
Schratwieser said, The moment Kurita weighed his fish, word spread like wildfire. We knew this would be significant so we immediately contacted the JGFA for more information. Established in 1979, and JGFA compiles and translates all record applications of fish caught in Japan before forwarding to the IGFA.
It works out well because they not only translate applications but can also contact the angler if more documentation is needed.

It turned into a lengthy process

Since the IGFA requires three months from the time of capture before a record can be approved, the official word would have to wait until October 2,said Schratwieser.
However, almost right away rumors began to circulate that Kurita may have caught his fish in a no-fishing zone. In response, the IGFA immediately corresponded with the JGFA to speak with the angler about this issue and to gather information regarding the legality of fishing where Kurita caught his bass. Official word came back that the location of the catch was not a no-fishing zone, but was an area where anchoring or stopping was prohibited. This spurred more correspondence with the JGFA and the angler, including affidavits asking the angler if he stopped his boat at anytime. Again, the testimony and affidavits that came back indicated that the Kurita did not violate any laws and that his catch was indeed legitimate.

It didnt end there.


A considerable amount of time and correspondence was to continue between the IGFA, JGFA and Kurita, a primary reason it took so long to come to a decision.
During this time, the IGFA was also besieged with letters and emails from the bass fishing community, said Schratwieser.
Many were incredulous that the All-Tackle record could be tied from a fish in Japan. Others beseeched the IGFA to approve the record and give Kurita the credit he deserves. Still others wanted to know why the entire process was taking so long. It soon became clear to the IGFA staff that this would be a contentious issue no matter if the record were approved or rejected.
The IGFA was also sensitive to this particular record because in past years there have been several attempts to sue us over largemouth bass record claims. Although none of these claims have been successful, they have resulted in considerable legal fees for the IGFA, he said.
In the end, the IGFA staff concluded it would be both in the best interest of the IGFA and that of Kurita if he submitted to a polygraph analysis. The IGFA reserves the right to employ polygraph analyses to any record application, and this is explicitly stated in the affidavit section of the world record application form.
Again, more correspondence was issued to the JGFA to request that Kurita take a polygraph test.

He immediately agreed.


On December 15, Kurita was examined by a professional polygraph analyst in Japan. The many questions he was given included if he was truthful about the information reported on the application form and if his boat ever came to a complete stop while fighting his fish.
The results from the polygraph concluded that Manabu Kurita answered the questions honestly and that the catch was legitimate.
George Perrys 77 year old record was officially tied.

Due diligence pays off



Six months may seem like a lot of time to determine if a fish ties a record, said Schratwieser. Hopefully, people now understand the amount of due diligence the IGFA conducted on this record. Although we treat all records with equal rigor, the All-Tackle largemouth bass record is nothing less than iconic and the bass angling community deserved nothing less.
Schratwieser added, The IGFA wishes to applaud Kurita on his outstanding catch and would also like to commend him on his patience and candor during the entire review process. We would also like to thank the JGFA for their diligence and tireless assistance in corresponding with Kurita and fisheries officials.
Biology and bass across the globe; where will the next record come from?
Largemouth bass have also been introduced in many countries but in Japan fisheries officials consider it an invasive species. In addition, because bass are not native and are stocked in Japan, many speculated that the big bass was a sterile triploid. However when biologists in Japan examined the ova of the big female, Schratwieser said they concluded that the fish was not triploid.

For over 77 years the record stood as bass fanatics theorized when and where the record would be broken. Over the years there have been rumors and unsubstantiated reports of bass that could have tied or eclipsed Perrys record, but nothing ever passed IGFA criteria. Some anglers did come close, however.
Schratwieser said the closest came in 1991, when Robert Crupi caught a 22 lb bass in Lake Dixon, California USA, that still reigns as the 16 lb line class record and the third heaviest approved bass record in IGFA history.
Most people thought that the next All-Tackle record would come from California. Until Kuritas tie the seven heaviest bass records behind Perrys came from California lakes. Although not native to California, it appears transplanted bass have adapted quite well to the deep, clear lakes and reservoirs and the abundant trout forage found in some of them.
Little did people know that introduced bass grew big in places besides California, and that there are true monsters swimming on the other side of the world in Japan.

Among the issues that had to be settled were claims that Kuritas bass was caught in an area closed to fishing, and later that it was caught in an area where boats couldnt anchor or stop. Affidavits and testimony received through the Japan Game Fish Association (JGFA) supported Kuritas claim of the fish being a legal catch.
The IGFA asked Kurita if hed take a polygraph test. He agreed and passed the Dec. 15 test administered by the JGFA.
Hopefully, people now understand the amount of due diligence the IGFA conducted on this record, said IGFA conservation director Jason Schratwieser. Although we treat all records with equal rigor, the All-Tackle largemouth bass record is nothing less than iconic and the bass angling community deserved nothing less.
Japan officials consider bass an invasive species. In addition, because bass are not native and are stocked in Japan, many speculated that the big bass was a sterile triploid. However, tests on the ova of the big female concluded that the fish was not triploid.



PART 2 Bassmaster Interview video Part one above. These are two different videos, part one and part two.
News Flash--World Record Largemouth Contender
Watch This Bass being weighed In "ALIVE" and Kicking At The Dock! Click here.

SIGNED POSTERS OF THIS BASS NOW AVAILABLE! CLICK TO ORDER!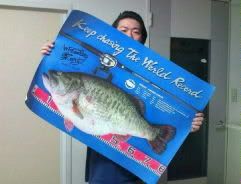 ---
Certified weight: 10.12 kg. = 22 lb. 5 oz
Length: 29.4 inches
Location caught: Lake Biwa, Japan
Angler: Manubu Kurita
This was just on the TV news about an hour ago, so this is all the info I have. Mr. Okamura, the president of Deps Tackle Co., helped with the interview; I did not catch the anglers name.
We are well past the spawning season when most of the giants are caught at Lake Biwa; most of the fish now are quiet slender (after spawn condition). Not this one!
Scale sample of the World Record Bass The bass is 13-15 years old.
There still has not been any ruling on the pending record bass caught by Mr. Kurita at Lake Biwa.
It has been half a year; usually records are either approved or disapproved within a couple of months at best.
A new Japanese Yellowtail record (over 100 pounds!) was caught on Oct. 24, 2009, and it has already been approved�
But yellowtail record submissions do not have all the politics that largemouth black bass record submissions do here in Japan.
One of my sources in the know tells me that there is no way the JGFA will allow the grand fish to become a new Japan record�
especially since it comes from �catch and kill� (catch and release of bass is illegal) Biwa Lake.
Interestingly enough, the IGFA is an autonomous body, and is supposed to make decisions regardless of what other (ie. JGFA) organizations allow/disallow.
Yet the IGFA has not rendered a final decision on this fish.
Steve Mras, multiple IGFA WR holder, emailed me the following:
No decision yet on possible record bass caught in Japan
The IGFA is still waiting additional information before making a decision for world record recognition on a 22 lb 4 oz largemouth bass (Micropterus salmoides), caught by Manabu Kurita, 32, of Aichi, Japan, from that country�s largest lake July 2. IGFA conservation director Jason Schratwieser said the World All-Tackle application is still under review after it was received in mid-September through the Japan Game Fish Association (JGFA). �We�ve been corresponding with the angler via our sister organization, the JGFA,� said Schratwieser. Besides being a non-profit fisheries, education and conservation organization, the 70- year old IGFA has long been the world�s recognized record-keeping body for over 1100 salt and fresh water recreational fish species. Schratwieser said the bass weighing 10.12 kg (22 lb 4 oz) was pulled from Lake Biwa an ancient reservoir northeast of Kyoto. Photos and video were also submitted with Kurita�s written documentation. If approved Kurita�s fish would tie the current record held for over 77 years by George Perry caught on Georgia�s Montgomery Lake, June 2, 1932, near Jacksonville, Georgia. In North America the largemouth bass, and especially the All-Tackle record, is considered by millions of anglers as the �holy grail� of freshwater fish because of its popularity and the longevity of Perry�s record.
\\\\\\\\\\\\\\\\\\\\\\\\\\\\\\\\\\\\\\\\\\\\\\\\\\ \\\\\
Mr. Kurita has made a complete submission, with more info provided than many submissions that became records with no problem.
It makes one wonder what �additional information� the IGFA could be possibly be waiting for?
I have met Mr. Kurita several times in my tackle store in Aichi, Japan. He is an avid bass angler, with a passion for hunting big fish; it seems very unfortunate that such a fine catch that should bring so much controversy.
Nobody I talked to here can remember a JGFA record submission that has taken this long. I am not going to hold my breath on a ruling anytime soon.
MORE INTERVIEWS, RADIO SHOWS, AND VIDEOS WITH TROPHY BASS HUNTERS < Click Here!
Top Japanese Pro Anglers and Guides
The previous Japanese bass record weighed 19.15 pounds and was caught by Kazuya Shimada from Lake Ikehara on April 22, 2003, on a swimbait.
Many thought the next world record bass would come from a California reservoir that gets stocked with trout. Dixon Lake in Escondido, north of San Diego, served up a 25-pound, 1-ounce bass in March 2006, but angler Mac Weakley of Carlsbad inadvertently foul-hooked the bass and never submitted it for record consideration.
Other Southern California lakes such as Mission Viejo, Lake Murray and even Lake Cuyamaca, because of the amount of stocked trout they get, have been considered contenders to turn out a world-record bass. The larger bass eat stocked trout and get much heavier than bass at lakes that aren't stocked with trout.
One exception was Lake Hodges, which turned out a 20-pound, 4-ounce bass in 1985.
Diamond Valley Lake also is considered a top candidate for producing a world-record bass. It is stocked heavily with trout, but bass fishermen must work from rental boats there. The lake's launch ramp is out of service due to California's drought conditions.
THE VIDEO OF THIS BASS IS NOW UP IN THE VIDEO SECTION OF THIS SITE.
http://www.delawaretrophybass.com/apps/videos/
PODCAST about the new world record bass from Japan With Denny Brauer and others talking about the record.
http://sports.espn.go.com/stations/player?context=podcast&id=4310782
certified scaled used by Deps to weigh the new pending record.
SPECIAL** JAPANESE BASS FISHING HISTORY Click Here
Diamond Valley Lake California
Diamond Valley Lake , CA
Location and Overview
Like so many good California fishing lakes, Diamond Valley Lake is close to major population centers and easy to get to, making it a natural weekend getaway. It's located right off SR 79 near Hemet, CA, conveniently close to Interstates 15 and 215 (check out the map). The lake is managed by the Metropolitan Water District, which manages access so that the lake does not get overcrowded or overused.
Fishin' Diamond Valley Lake
Since its opening in 2003, Diamond Valley Lake has made a name for itself as a world-class largemouth bass fishery. Its prominence is underscored by the fact that over 50 bass tournaments are scheduled to take place on the lake in 2007, including such big names as WON Bass, ABA, and National Bass West. Hardcore bass fishermen always have their own preferred baits for different conditions and times of year, and a variety of artificial lures have been proven effective here including swimbaits, buzzbaits, rubber worms, crankbaits, and jigs. Natural baits also produce big ones, with anglers reporting success on nightcrawlers and live crawdads.
Smallmouth bass also live in the lake, and are catch and release only.
Click here for the latest Diamond Valley Lake fishing reports.
Fishermen bringing privately owned boats may make a reservation, and this is highly recommended because of limited parking capacity. Reservations are also accepted for shore fishing. For applicable entrance and reservation fees, check out the lake's website. Float tubes are not allowed.
THE BIGGEST BASS: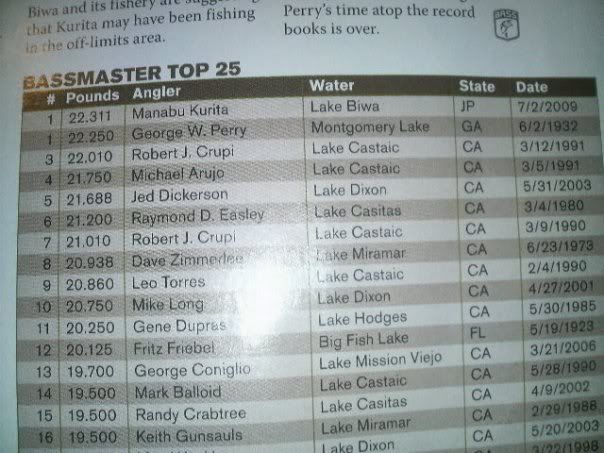 If the weight of yesterday's catch in Japan is verified, these are theheaviest largemouth bass ever caught. Of the top 10, three were takenin San Diego County:
1. 22 pounds, 5 ounces, by Manabu Kurita; July 2, 2009, at Lake Biwa, Japan
2. 22 pounds, 4 ounces, by George W. Perry; June 2, 1932, at Montgomery Lake, Ga.
3. 22 pounds, � ounce, by Bob Crupi; March 12, 1991, at Castaic Lake
4. 21 pounds, 12 ounces, by Mike Arujo; March 5, 1991, at Castaic Lake
5. 21 pounds, 11.2 ounces, by Jed Dickerson; May 31, 2003, at Dixon Lake
6. 21 pounds, 3� ounces, by Raymond Easley; March 4, 1980, at Lake Casitas
7. 21 pounds, � ounce, by Bob Crupi; March 9, 1990, at Castaic Lake
8. 20 pounds, 15 ounces, by David Zimmerlee; June 23, 1973, at Lake Miramar
9. 20 pounds, 14 ounces, by Leo Torres; Feb. 4, 1990, at Castaic Lake
10. 20 pounds, 12 ounces, by Mike Long; April 27, 2001, at Dixon Lake
Interesting Facts:
22 of the top 25 LMB were taken in California.
Florida and Georgia are the only other states to make the top 25 with a latest entry of 1961.
20 of the top 25 LMB were taken in the last 20 years.
20 of the top 25 LMB were taken from February through May.
2 anglers - Bob Crupi and Dan Kadota have more than one entry on the top 25 list.
Castaic Lake in Southern California produced 6 of the top 25 LMB.
Miramar Lake in Southern California produced 4 of the top 25 LMB.
All except one (Hodges) of the California Lakes in the top 25 list are heavily stocked with rainbow trout.
Also: A 25-pound, 1-ounce bass was caught by MacWeakley on March 20, 2006, at Dixon Lake, but Weakley decided not topursue world-record consideration because the fish was foul-hooked.
The baits that sponsor the angler that caught the new world record are called Deps. Here are the baits and the story.
In 1992, Japanese angler Kazumasa Okumura started to gain much media attention by breaking the ten pound barrier several times in a row on Japan's famed bass water, Lake Biwa. He used an original design heavy weight spinnerbait, slow-rolling it deep along the bottom, a tactic not practiced much in Japan. However, the lure and technique started Kazumasa's career and legend as one of Japan's foremost big bass experts, and led to his founding of the deps lure company.
Kazumasa loved to fish with big spinnerbaits, and in 1997, at the age of 28, Kazumasa founded the deps company in order to make his now legendary spinnerbait available to other anglers. Kazumasa's habit of catching monster bass, especially when outdoor writers/photographers were fishing with him, helped establish the success of and the aura surrounding deps lures.
Kazumasa's spinnerbait, named the B-Custom, became an immediate sensation in Japan and still ranks as one of the best fish catching lures in Japan today.
But Kazumasa didn't stop there. Kazumasa and deps continued to test and release new products, focusing on big bass, adding up to a full line of hard, soft and hybrid lures, many of which are only available in Japan.
In 2000, swimbaits and the big bait boom got started throughout Japan. Kazumasa and deps began to test and manufacture various styles of big baits not seen before in Japan, or anywhere. Japanese bass anglers typically focused on finesse fishing and light tackle, but the ingenuity of deps new big bass baits grabbed the attention of anglers and bass across Japan.
Released in 2003, one radical new design was a big wake bait named the Buzzjet. It was voted the most popular lure in Japan for 2003 by Lure Magazine readers..
Buzzjet Q&A with Mr. Kazumasa Okumura:
Q. How did you think of the Buzzjet prop bait, crankbait lip and fat body bait idea?
A. The idea was not there from the start to combine all three of these styles. In the past I had made a deep crank that was fat in body style and also have made surface style wake baits. I wanted to create a bait that had a strong surface appeal and that was when the idea of combining a fat crank body with a prop style wake bait occurred to me. The toughest part of it was playing around where the weight transfer system should go and how much weight. The key was the left to right weight transfer system to give it that added roll which adds the flash and extra wake.
In 2004, deps released the Basirisky, a hollow rubber frog with a crazy yet brilliant twist. Its unique back legs face forward so that it crawls on the surface creating a huge rollicking ripple behind it.
Basirisky Q&A with Mr. Kazumasa Okumura:
Q. How did you come up with the fluke leg concept on the Basirisky?
A. We were kicking around the idea of coming up with a soft hollow body frog type bait that you could use not just for heavy cover but in open water on a straight retrieve or in open pockets. We built the idea off the Crazy Crawler and started by trial and error with various prototypes, eventually achieving the fluke style legs you see today.
deps Lures Debut in North America
In late 2005, deps lures started to become available in North America. It is really the deps Basirisky (two sizes) plus the deps Buzzjet (two sizes) that have captured the interest of North American anglers.
DEPS are relativley expensive lures. Nevertheless, across the USA, deps products are mainly being bought by tournament anglers or by otherwise expert anglers who have seen the product videos on the Internet and have been blown away by their unorthodox look and action.
Especially to tournament anglers, the higher price is offset by the hope to win tournaments with deps, and that has proven to be the case for some.
Regional Hotspots
Currently, deps products are most widely used in both north and south California, all over the Potomac area (Virginia, Pennsylvania, Maryland), South Carolina and North Carolina. On the other hand, deps haven't caught on yet in many other regions, including much of the South as well as Texas and Florida. There's still a lot of water where a deps has never been thrown in most states, Canada and Mexico.
An International Phenomena
What's an interesting phenomena and one other region (actually, continent) where many of the deps lures for sale in North America are going is overseas to tournament anglers in Europe, especially France, Italy and Spain. Many European tournament anglers are racking up high scores in competition by depending on deps basirisky and buzzjet lures. The Internet has helped sophisticated French, Spanish and Italian anglers to leapfrog smack dab onto the very cutting edge of new lures and very latest information on what's hot. They're tapping the latest and greatest bass tackle and tactics that have not yet made their way into slower-moving European tackle distribution chains or magazine articles there. Of course, these advanced anglers would like to keep it hush-hush because they're onto a good thing here. The instant Internet access to world class tackle and tactical knowledge can definitely be an advantage to them since they're getting items and information not used by many other anglers in Europe.
Getting back to the states, there's an element of hush-hush about deps too, yet it has been the eventual word of mouth praise that has been the key to deps' growing success in the states. Although guys try to keep it a secret, the deps products popularity grows because anglers share their positive experience with each other.
Captain Karl Bunch
One such angler who is willing to share his deps lure secrets with us is Capt. Karl Bunch. He operates Karl's Bassin' Adventures Guide Service (at karlsbassinadventures.com) on the Potomac River, the Upper Chesapeake Bay headwaters and the Susquehanna River flats.
"Several years ago I first heard rumors about the deps products from tournament anglers. Then in early spring 2006 the Basirisky was quickly becoming the whispering topic of tournament anglers on the Potomac River,: says Capt. Karl. "Word got out that finally here is a topwater lure that can be cast long distances back deep, deep into the thickest of grass beds and simply retrieved across the dense grass beds with great success at getting old bucket mouth to attack it. As I started using the Basirisky I found that several of my tournament angler clients who I was guiding, they would not talk about the Basirisky until I pulled one out for them to use. Yes, they were trying to keep the Basirisky a secret as the Basirisky was winning tournaments and anglers were cashing checks in tournaments using the Basirisky."
"But you can't keep a great lure a secret for long and by the summer of 2006 the Basirisky was the must have lure on the Potomac River and Upper Chesapeake Bay/Susquehanna Flats," says Karl.
"It got a little surreal, and a real worry to those who did not have any as tournament anglers were making early morning deals with their fellow anglers for the Basirisky prior to launch time at the tournaments."
"I have found that a good quality 6 foot 6inch to 7 foot medium-heavy fishing rod with 40 to 65 pound test braided line works best for fishing the Basirisky. Give the Basirisky a good long cast deep into the thick grass bed, hold your rod tip at the 10 o' clock position and give it a steady retrieve. As the Basirisky gets to within two feet from the edge of the grass bed, many times I will stop the Basirisky and work it as a popper, and just as the Basirisky clears the edge of the grass bed, I will without pause start the steady retrieve again. I have found this technique to be very effective even on the most reluctant bass with heavy fishing pressure." reveals Karl. "I prefer to use the smaller/lighter 60 series most of the time but on the breezy days when there is a slight chop on the water I will use the bigger/heavier 70 series Basirisky," advises Capt. Karl Bunch.
Buzzjet
"The Buzzjet is just getting it's due attention in the region in 2007. The popularity of the Basirisky has helped to get many anglers to give the Buzzjet a go, and this exciting topwater wake bait is rewarding anglers with great success. Recently, Mike Acord of Susquehanna Fishing Tackle in Lancaster, Pennsylvania won the B.A.S.S. Weekend Series Co-Angler side on the Potomac River using the Buzzjet Jr. as one of Mike's key lures during the tournament," says Karl.
"I have found that a good quality 6 foot 6 inch medium-heavy fishing rod with 20 to 40 pound test braided line to work best. Hold the rod tip at the 10 o' clock position with a steady retrieve. I prefer the Buzzjet Jr. on the waters of the Potomac River and Upper Chesapeake Bay as the smaller size more effectively matches our bait fish size. The Buzzjet Jr. is very effective when fished over submerged grass and retrieved parallel along side the edge of the grass beds," says Karl.
Capt. Karl Bunch uses the smaller sizes - Basiriky 60 and Buzzjet Jr. - most often.
"I hope these tips can help you to depend on deps lures for fishing success," concluded Capt. Karl Bunch. You can visit his site at karlsbassinadventures.com.
http://www.depsweb.co.jp/
George Perrys World Record Bass
In football, "the catch" was Dwight Clark's snag of Joe Montana's pass to win the 1982 NFC Championship Game. In baseball, "the catch" was Willie Mays' grab of Vic Wertz's long drive to centerfield in the 1954 World Series. And in fishing, "the catch" is George Perry's world record largemouth bass taken on June 2, 1932 from Lake Montgomery, an oxbow of the Ocmulgee River in South Georgia. The fish weighed 22 pounds, 4 ounces and is the most sought after sportfishing record in history.
In 1932, George Washington Perry was a 20-year-old farmer living in rural Georgia. This was in the depths of the Great Depression and fishing was more than recreation. It was a way to get food.
Spring was wet that year, and on June 2 the fields were too soggy to work. So Perry and his friend Jack Page set out for Montgomery Lake to do some fishing. They kept a small homemade boat there and carried a single rod, reel and lure. Each would take a turn casting while the other sculled the boat.
At some point, Perry noticed a disturbance near a shallow stump and made a cast to it.
Years later, Perry told the tale to Vic Dunaway for a 1969
Sports Afield
article:
I don't remember many of the details but all at once the water splashed everywhere. I do remember striking, then raring back and trying to reel. But nothing budged. I thought for sure I had lost the fish — that he'd dived and hung me up. I had no idea how big the fish was, but that didn't matter. What had me worried was losing the lure.
The lure was the only one they had, a Creek Chub Fintail Shiner, and their day would be over without it. Fortunately for Perry, the lure wasn't hung up at all, and in a moment the fish moved. The battle was brief and soon he was lifting the bass into the boat with both hands.
Neither Perry nor Page had any idea that the bass might be a record of any kind. In fact, there really weren't any records in those days. Although
Field & Stream
sponsored an annual big fish contest and maintained the most authoritative records of the day, they did not list world records at that time.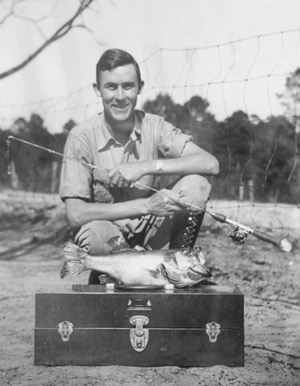 Photo courtesy of Ken Duke
George Perry poses with a 13-pound, 14-ounce largemouth that won the Field & Stream big fish contest in 1934.
All Perry and Page knew was that the bass was bigger than any they had ever seen. "The first thing I thought of was how nice a chunk of meat to take home," Perry told
Sports Afield
almost four decades later. But before they took the bass home, they stopped at the nearest town, Helena, and pulled into J.J. Hall's General Store to show the fish off to anyone who might care. Once inside, Hall pulled out a tape and measured the bass at 32 1/2 inches long and 28 1/2 inches around.
Then they took the bass to the post office and got it weighed on a set of certified scales where it registered 22-4. Someone told Perry about the
Field & Stream
big fish contest, they found an issue with the submission rules and he entered his catch.
After that, Perry took the fish home and cleaned it. It was a female full of roe. His mother fried one side of the fish for dinner to feed the family of six. The other side was dinner the next night.
Of course, Perry's entry won the
Field & Stream
contest. For his victory he collected a shotgun, shells and some clothes — $75 worth of outdoors gear in total.
It would be two years before the catch would be recognized as a world record. That's when
Field & Stream
reviewed their contest records and decided that Perry's catch belonged on top of the largemouth bass category. That same year Perry won the annual contest again, this time with a 13-pound, 14-ounce bass taken from Georgia's Altamaha River.
Perry received little notoriety for his catch. He died in 1974 when the plane he was piloting crashed into a mountain in Birmingham, Ala. This was not long after Ray Scott founded the Bass Anglers Sportsman Society (BASS) and just before the sport of bass fishing really boomed. Had he caught the fish today, many speculate that it would be worth millions. All Perry got for the catch was the
Field & Stream
prize package.
Naturally, with any record that is so revered and which came so long ago, there is controversy surrounding Perry's catch. Part of the problem was the lack of photographic evidence. The
Field & Stream
contest didn't require photographic proof, so none was submitted. Furthermore, Perry's entry was lost by the magazine in the 1950s after loaning the materials to an outdoor writer.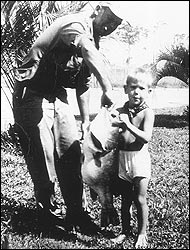 This photo surfaced in Georgia in the effects of a woman connected to the Perry family. Seemingly, you are feasting your eyes on the only known picture of the world-record largemouth.
It wasn't until 2005 that a photograph of a man and a little boy holding an extremely large bass surfaced in the effects of a woman whose family was close to Perry's. Though the man in the photo is not Perry (is it Jack Page?) and neither he nor the boy have been positively identified, the background appears to be the area just outside the Helena post office. Record aficionados were thrilled at the possibility that were actually looking at a photo of
the
fish. That a photo surfaced at all is not entirely surprising. In recently discovered correspondence between Perry and the Creek Chub Bait Co. in the mid-1930s, Perry referenced at least two such photos — one that was "not a real good photo" and another he described as "a real good picture of myself and the big Bass together...." If the photo discovered in 2005 is one of these, it must be the former since family members agree that Perry is not the man pictured.
Another controversy surrounds Jack Page. Who was he? Where did he go? Did the two men have a falling out over the prize materials or the fish — neither of which Perry shared? Page has completely disappeared.
It's also true that there's only been one other certified bass weighing better than 18 pounds ever taken from Georgia waters. What are the odds that there would be more than a 4-pound (23 percent) gap between the two biggest bass? A look at almost any other state's records shows that mere ounces separate the top catches.
Could the bass have been something else? Some have speculated that it might have been a striped bass and that locals might not have recognized a striper as something different from a largemouth. It's almost certainly true that stripers swam in those same waters.
Ultimately, the controversy doesn't matter. For generations of bass anglers Perry's mark has set the standard and is the number we dream about. Nothing less will do.
The Unofficial World Record
The Unofficial World Record
The One That Got Away
---




Jed Dickerson holds world-record class bass Dottie after she was found dead on Dixon Lake Friday.
Jed Dickerson had just left Dixon Lake exhausted and was about to sit down for lunch when he got the call from Jim Dayberry, one of the Ranger supervisors with the park's lake division. "You might want to come back down here," Dayberry told Dickerson at around 11:45 a.m. PT on Friday. "We just found Dottie floating on the north side of the lake." There was a group of Rangers, including Dayberry, waiting for Dickerson on the dock, shaking their heads. Dickerson picked up the 19-pound dead bass and looked for the spot on her gills that had famously earned her the nickname "Dottie." "Yup, that's her," Dickerson said. "It's over." What Dickerson held represented almost a decade of commitment, putting him on a journey that labeled him, in certain people's eyes, as both a record holder and a fraud. It began with old friends Mac Weakley and Mike "Buddha" Winn and ended with new friend and former Minnesota Vikings and Arizona Cardinals coach Dennis Green. This was the third time he'd held Dottie, and for the third time, it didn't accompany the title he wanted so badly — largemouth bass world-record holder. George Washington Perry's record mark of 22 pounds, 4 ounces, set on June 2, 1932, at Montgomery Lake in Georgia, dodged the biggest bullet of its nearly 76-year-old life on Friday, and Dickerson, Dottie's most devoted hunter, will finally get some rest. "In my opinion, this is one of the greatest days in bass fishing history," said Dickerson, who had spent the week with National Geographic, working on a documentary on bass. "It's the end of an era and Perry's record lives on. I don't think anyone is ever going to break it."
Chasing Dottie
Dickerson, Weakley and Winn all grew up fishing together on Dixon Lake in Escondido, Calif., but they started their career hooking trout. Then one day they all watched as a guy stayed in one area all day, staring at one fish (sight fishing). Eventually he hooked a huge pregnant female and at the same time, hooked three kids on chasing bass. But it wasn't until the late '90s that they realized their chase for big green bass would turn into a chase for the biggest green bass. A rumor and then a sighting of, at that point, a nameless, massive female bass, ended up defining their lives.
Jed Dickerson loads Dottie into a bag for the Game and Fish Department. Dottie was put in a freezer to be examined later.
"We just think it's really bizarre — kind of like it was meant to be," Weakley said. "The three of us grew up in that area, and that's the lake we used to fish out of every day when we were 6- and 7-years-old. "And it turns out there was a world-class bass swimming in that lake three miles from our houses." They devoted every minute of their free time to catching Dottie, which they believed would be large enough to score them the most coveted and historic record in bass fishing. Dickerson was the first to realize the dream in 2003, and he thought the record was officially broken when he picked her off a spawning bed. He said the three friends immediately weighed Dottie at around 23 pounds, but it took the Game and Fish three hours to get to the lake to verify it as a record. By that time, they said, it was stressed and had lost a lot of its weight. She officially weighed 21 pounds, 11 ounces, which still holds as the fourth largest largemouth bass ever recorded. That's when they noticed the spot on the gill and declared the race for "Dottie" and the record officially on. They didn't pull her in again until 2006 when they again spotted her on a spawning bed and Weakley went to work. He eventually was able to set the hook, but when he got her to the boat, they noticed she had been foul hooked (not hooked in the mouth). Against his friends' wishes, Weakley decided not to try and make the record official with the Game and Fish. Before releasing her, they weighed Dottie at 25 pounds, 1 ounce, shattering the record, took some photos. Weakley said he wasn't prepared for the scrutiny that followed. The three were pounded by the media with requests for interviews and scolded by some conservation agencies and even other anglers about the way they handled Dottie. They were told by many that they had all but buried Dottie and some anglers even reported finding her dead. "After all the scrutiny we've taken over the fish, people can see the truth now," Weakley said after seeing Dottie for himself on Friday. "Even though the fish was foul hooked, which sucked, I think it was good because it showed what the fish was in her prime. "If we hadn't caught her in between Jed's catch in 2003 and her death today, people might have thought she topped out at 21 pounds." Weakley and Winn backed off from the hunt after 2006. Winn eventually took a job that moved him away from Dixon and Weakley felt like the deed was done. But Dickerson wasn't finished. He wanted to see Dottie officially go down in the record books. "I looked at it like the final chapter in that book had closed, but Jed didn't see it that way," Weakley said. "He wanted to keep pursuing it and get the official record. I think it became a personal thing with him, while for me, I kind of felt like I had been there, done that." Dickerson said it went beyond just wanting to see his name in the books. Because of the time invested he felt like Dottie was his (along with Weakley's and Winn's), and he didn't want any "one-time angler" to come to Dixon, a public lake, catch Dottie and claim the record. He wanted to make sure it stayed close to home. And, according to Dickerson, they were coming from all over the U.S., and even some from Japan to try and put their name above Perry's in the book.
Meeting Dennis Green
Dickerson didn't have any luck with Dottie in 2007, but he spotted her in Dixon three months ago, with the females in the early stages of the spawn. A few days later he met an unexpected new friend and business partner, Green.
Jed Dickerson and Mac Wheatley compare Dottie to her mounted self.
"I heard he was on the dock, but I didn't want to get into his business," Dickerson said. "But when I got back, I found out he was looking for me." Green, who lives 45 minutes from Dixon in San Diego, said he knew Dickerson's story and thought he'd take his 9-year-old son Zach to check it out for himself. They struck up a quick friendship and Dickerson starting guiding for Green and Zach, both of whom love to fish. "Talk about the biggest bass is always part legend and part myth," Green said. "Sometimes that giant bass doesn't really exist, but everyone talks about it." A few days after that, Green and son Zach witnessed something he described as "unbelievably beautiful." "When we saw her — it was just unbelievable," Green said. "She had two males swimming beside her — I called them her security guards — and she was more confident than any fish I've seen in my life. "She was doing her thing, man. We think of a big fish as a fish that's lazy, but she was moving with a purpose." Green was so enamored with the chase for the record and the mystique that followed it, he signed Dickerson on to be represented by his new business, Dennis Green Sports Marketing. "Jed's a great fisherman and a great guide, and I think fishing is the future," he said. Dickerson, balancing time with his job banking for a casino and his family, spent about eight hours a day, every day, looking for Dottie this spring, but the next time he saw her was when he held her on Friday.
Life after Dottie
He had all but given up hope of catching Dottie this spring when he got the call from Dayberry, but surprisingly, he said the first feeling he had after hearing Dottie had been found dead was relief. "Now I won't wake up every morning, worrying that someone else was going to catch her," he said. "It's cost me an arm and a leg, and my family has been very, very understanding through this process. "I'm just totally exhausted." Weakley had a similar reaction. Tired of the scrutiny and attention, he was glad that the hunt was over and happy how it ended. "I think it's great that she didn't end up in an aquarium or on somebody's table or on a mount," he said. "It's good to see that she lived her life out and came back to visit us one last time so people can really see just how big this fish is. And now we get to share her and let other people see her." Green said he couldn't think of a better ending to Dottie's story. One of the most impressive bass in recorded history spawned one last time and passed away on Mother's Day weekend. "Dottie was spawning just like a 3-pound fish," he said. "As a big fish, she still was into spawning. When they found her today, she was totally spawned out. "She did what she had to do, and she did it on Mother's Day weekend. And her legend as the biggest fish ever goes on."
Editor's Note: Dickerson is a guide on Dixon Lake. He can be contacted at lunkers@cox.net.


Potential World Record Photos are available here at this site in our gallery.
The Real World Record Bass
International Game Fish Association to take the 25-pound, 1-ounce bass under review
UNION-TRIBUNE STAFF WRITER
11:00 a.m. March 21, 2006
Mike Winn of Carlsbad hefts the 25-pound bass, heaviest ever caught by rod and reel.
SAN DIEGO – An official for the International Game Fish Association said today that the 25-pound, 1-ounce bass caught and released by Mac Weakley of Carlsbad at Dixon Lake Monday will get consideration as a world record. Jason Schratwieser, conservation director for the association, commended Weakley and his crew of Mike Winn and Jed Dickerson for releasing the big bass, which, if certified as a record, will shatter the present mark of 22 pounds, 4 ounces, the weight of a fish caught by George W. Perry in 1932 at Montgomery Lake in Georgia.
Weakley foul-hooked the largemouth bass, with the hook lodged on the fish's left side, just below its dorsal fin.
California Department of Fish and Game regulations state that a fish, to be legally caught, must be hooked in the mouth while it tries to take a bait, lure or fly. The game fish association states, for its record-consideration process, that a catch will be disqualified if a fish is "intentionally" foul-hooked. Weakley said he wasn't intentionally trying to foul-hook or snag the bass, and three witnesses to the catch confirmed that.
"We don't have any information on the fish right now, so we don't have any comment," Schratwieser said. "But if it is submitted it's something we'll discuss and look at. Absolutely. One thing we never want to do is penalize a recreational angler for releasing a fish. I commend the guy for releasing such a big, spawning female because she'll contribute a lot to that lake. "A big female like that will produce more eggs, but more importantly, more quality eggs. There may be a genetic component that she passes on to subsequent generations of larger, healthier fish."
Schratwieser added that the fact Weakley didn't take measurements of the fish – length and girth, an integral part of the IGFA's application process – might not matter if the photos and video they took substantiate the size of the bass.
"We like to have the measurements for several reasons," Schratwieser said. "One is for scientific purposes, so we can get a better understanding of the size of the species. Measurements also help confirm the dimensions of the fish if the pictures are lacking in the application."
Schratwieser said it will take a month or more to confirm the fish as an all-tackle world record.
Weakley said Monday that he will apply for the record. He defended his decision not to take measurements.
"I didn't want to lay it (the bass) on the dock and have it stressed more than it was," Weakley said. "People can take it for what it's worth. That's just how it is."
Added Dickerson: "Whatever happens, we know it's the world record. Unless that one gets caught again, no one will ever see another bass that big."
Meantime, Dixon Lake was quiet Wednesday morning considering that the world-record bass still swims there.
"It rained all night and there's no one here," said Jim Dayberry, supervisor of rangers at Dixon. "I would expect that later today and into the weekend it's going to go crazy here."
Dayberry also explained how Weakley, Winn and Dickerson had early access to the lake Monday He said the anglers bought a camping permit that allowed them to bypass the line of cars that had to wait until the lake opened at 6 a.m.
Weakley, Winn and Dickerson were able to buy their lake permits and rental boat before the anglers in the vehicle line reached the lake.
"We allow campers to come in anytime," Dayberry said. "That's why we have a ranger here 24/7. If not, we'd have this lake poached every night. But campers come to the gate and wait in the parking lot for the ranger to come up and sell them a spot."
The fact Weakley and his crew got in early that way didn't sit well with some anglers, but it was legal.
"When the ranger opened the gate, we were the first ones in, so we were stoked," said Rancho Bernardo's Steve Barnett, who was there with his younger brother, Dan, trying to get in some fishing before school. "Dan knew a guy was fishing for that fish the day before and that there was a 20-pounder out there. We were going to try and catch it. I wanted to get Dan a junior record before he turns 16. But when we got to the lake we looked out and (Weakley, Winn and Dickerson) were already on the lake. So we just decided to sit there and watch them. At least we saw the world record caught."
Dayberry said he respected the way Weakley, Winn and Dickerson handled the bass after it was caught.
"They saw how much Jed's 21-pounder (the 21 pound, 11 ounce fish caught in 2003 and also believed to be the same bass) was stressed by being out of the water so long," Dayberry said. "They knew keeping it out of the water would have been the kiss of death for that big bass. They wanted to do minimal damage. And there was a lot to be said about their honesty. These are stand-up guys we've known since they were kids. They have a lot of heart.
"Sure, we'd love to post it as the world record right now, say it's done and in the record book. There could be a 24½ -pounder caught at Casitas or Castaic today, but everyone will know there's a bigger one swimming in Dixon.
"We know because we saw it."
Weakley Gives His Account Of The Catch
Thursday, March 23, 2006
Photo: Mac Weakley

Mac Weakley said Mike Winn held the fish for the photo because he was an experienced fish-handler.
On Monday, March 20, Mac Weakley fished California's Lake Dixon with friends Jed Dickerson and Mike Winn. In the early hours of that day, he hooked and landed what was potentially a new world-record largemouth bass. That record has stood for more than 70 years. The bass weighed 25-01 on a handheld scale – with evidence captured on video. However, the fish was foul-hooked from a nest, and Weakley returned the fish to the water before it could be measured or weighed on a certified scale. The current world record is 22-04, set by George Perry in 1932.
In the days that followed, controversy erupted around the catch. The public wondered why Weakley and friends conferenced prior to bringing the fish to the dock. Some questioned whether Weakley had intentionally snagged the fish. Other questions included why the fish wasn't weighed on a certified scale, and why the trio had first access to the fish that morning.
In the following Q&A, Weakley tells BassFan the facts from his point of view. Key points that Weakley stresses are:
He did offer to pay Kyle Malmstrom $1,000 on Sun., March 19 for a 30-minute chance at the fish.

He did purchase a camping permit at Dixon, which is in-bounds in hyper-competitive San Diego.

He did not intentionally snag the fish.

He conferenced before bringing in the fish to both celebrate with his friends, and discuss the ramifications of such a monumental fish.

He did not intend to obscure the fact that the fish was foul-hooked.

There was no longer a certified scale at the Dixon dock. He said it was removed when control of the concession stand changed.

He released the fish without measurements and additional photos because he didn't want to risk killing it.

He won't submit the fish to the International Game Fish Association (IGFA) for potential world-record certification.
BassFan: What did it feel like when you hooked, then landed the fish?
Weakley: You know you're fishing for something that's just huge. It was just a full adrenaline rush. Unfortunately, she got snagged on the side. It sucks, but it happened.
I caught the fish, brought it in, got it in the boat, saw it was foul-hooked on the side, and I couldn't even really think straight – it was such a full adrenaline rush. It was just a really exciting experience to see a fish that big. To see they can grow that large – it was pretty neat.
You've said you won't submit the fish to the IGFA for possible world-record certification. Why not?
I don't want it to be an official, or unofficial, record. The three of us had put so much time into this. At first, people were pushing the fact that it could be (a record) because was it intentional (snagging) or not? If not, it could be.
I didn't even know those rules even existed. I had no idea they were there. We knew because it was foul-hooked there would be tons of controversy. I didn't know the rules, but I didn't think it would count.
I was just stoked to get a 25-pound bass. That's what the video was for – for us to share as we get older. Everybody wanted a copy, so I gave it to them. People are saying they'll give me money for it, but I haven't received one dollar. I don't want to receive a dollar. I've told everybody, if they send me money, I'll send it to Make-A-Wish.
I have a great job. I really don't think (potential money) would change my life. I'm very fortunate and blessed for what I have. I'm truly blessed with great friends, an awesome family, a good job. So I don't think it would change my life at all.
Even if I hit the lottery, I'd still be going out there with Jed and Mike. We fish saltwater too – we have our own skiff. In fact, I enjoy saltwater fishing more than bass fishing.
The thing that's really sad is, I feel this record's really tarnished by everybody looking at it for this big cash-in they're going to get. That's why I think the record is so popular.
Not only that, but the fact that people are wondering if (bass) can actually grow that large. Between the three of us, we know they can get bigger than that. When you see big fish repeatedly – these fish are 23-, 25-pound fish – you don't see them often, that's for sure. But you definitely know it when you see something that large.
Now that some of the dust is settling, are you anxious to put the whole catch behind you?
Totally. I felt I did the right thing by releasing the fish. The fish is still alive and swimming in there for anybody to have a chance to catch it – whether it's a 12-year-old boy or a 60-year-old man.
That's what I feel is the most important thing – why I was in such a rush to get this fish back inside the lake.
Is that why you didn't officially weigh and measure the fish?
To set the record straight, I didn't want a bunch of people taking photos of it. It's not healthy to pass around the fish. All it takes is one person to drop it on the dock and that fish dies.
| | | |
| --- | --- | --- |
| | | "It was not intentional. I was trying to do everything but catch that fish the way I did." – Mac Weakley |
Mike (Winn) has been a charter captain, and he has tons of fish-handling skills. I was confident to let Mike do the handling of the fish. Again, the cool thing is the fish is still living. Catch and release is proved to be a very good thing for a lake. But I'm pretty much ready to put this behind me. This will probably be the last interview I wind up doing. I don't want any product endorsements. If someone sends me free products, I'll give them away to charity.
The other thing is, I've been very open about giving away the pictures and video. It doesn't matter to me.
There seems to be some discrepancy about how you got on the water so early. Could you walk us through that?
People keep talking about that. It's a public thing, and people can go there and do the same thing. If they get outwitted because we actually figured that out (the camping permit), how is that our problem? They have the same right to do the same thing.
San Diego is very competitive – especially for bed-fishing. The more that I look at it, I'll still always enjoy the sport, and there's some really good sportsmen out there – like Mike Long, and definitely five stars for John Kerr.
The fish was foul-hooked – it wasn't properly caught. Therefore, I believe, after thinking about it, that it should not be the record out of respect for the rest of the guys like Long and Kerr, who've put thousands of hours into doing this.
I would like to see people actually try to get the rules down to the wire. All this speculation – what if you're fishing a private lake? What if you have access to certain areas that other people don't have? How is that fair?
So you think the world-record rules need to be refined?
One thing I always discussed is if you're fishing a private lake, and the general public doesn't have access to it, how can that be considered a record?
There's a gray area and people definitely need to refine it if we're to continue to pursue the world record. So when it's caught there's no controversies behind it. I think the controversy sells, and people want to stir everything up with it.
After you caught the fish, you went out toward the center of the lake before coming to the dock. Can you discuss that?
We went to the middle of the lake because it was something we wanted to experience for the three of us. We were high-fiving each other, and stoked to see the fish. That's it. Those were our thoughts.
And, "What do we do?" It wasn't because I'm going to turn this fish in as the official record. That's ridiculous. There were already witnesses on the docks who saw it was foul-hooked.
People also need to understand, I can't respond to people's questions that everyone has immediately on the Internet. I don't know how many calls I got. It was like people were pulling from every limb of your body.
So to set the record straight, you did not intentionally snag the fish, and you had no intention of ever obscuring the fact that is was foul-hooked?
I don't even know how I could answer that. My intention was to catch the fish. Things happen when you're fishing. Maybe I jumped the gun, and I set (the hook) out of sequence. Obviously I did. You know how it is when you're bed-fishing. A big fish can come in and in a second suck in and blow out a gallon of water. There was also the male to contend with.
When you're fishing that early in the morning, and it's windy, and rainy, and I pretty much have a major astigmatism, so I can't see that well as it is. The fish was foul-hooked. I admit it.
Kyle (Malmstrom) told us (on Sunday) that he actually saw the fish, felt it – actually saw that it picked it up his bait, that he got bit by it. That's the nature of the bass. That's just how it is.
We're human beings. We're not perfect. You can't always be perfect. The guys on tour fishing professionally, they do one little thing wrong and they lose a big fish. It comes out after the fact that maybe you feel bad, maybe you should have got the net out instead of flipping it up on the boat.
I'm human. I made a mistake. Unfortunately, it happened on a big fish. But it's not the only big fish it's happened on.
Photo: Jed Dickerson

Weakley said Jed Dickerson's fish first weighed 22-09, but by the time the warden arrived, it weighed 21-11.
I've had other big fish eat a jig and I didn't have the drag set right. Everybody has their fish story about the one that got away. That's the thing. Everybody wants to know if it was intentionally snagged. It was not intentional. I was trying to do everything but catch that fish the way I did.
Kyle Malmstrom told us you offered him $1,000 on Sunday for a chance to catch the fish. Is that true?
I sure did. Absolutely. Everybody thinks I'm going to stray away from that question. Jed offered him five rods (for the chance). We saw him (Kyle) fishing for this fish for a long period of time. He even let me inside of his boat, so I could take a look at that fish.
The first words out of my mouth when I saw it were, "That's Jed's fish." (
Weakley's fish is believed to be the same fish Jed Dickerson caught in 2003, when it weighed 21-11. – Ed.
)
He (Kyle) wanted to borrow my cell phone. His wife was giving him a hard time for being out there so long, so he made me talk to his wife to convince her that is was Jed's fish, and that he needs to stay.
He kind of stared at it in the water, and we talked back and forth. At that point, he said he's not going to leave. We decided we'd get a campsite so we'd be the first ones out.
People are losing sight of the fact that people can actually see a fish that big on a video and photo. There's so many people here that do things like poach, and there's people that snag – people who do all kinds of things. And the nature of the bass – that's how it is.
That's why I tell everybody, I hope it's a 12-year-old boy sitting on the dock (who catches the official record), so people will give it a break. If it comes from any professional, they'll always be wondering, how did you catch it?
Does that controversy have you feeling down?
I'm setting the record straight, telling you right now, it's not the record, and should not be the record.
It's the same bad beating I watched Jed take. I saw Jed weigh his fish at 22-09 (in 2003). But by the time the warden got there, it weighed 21-11.
Back then, we were like, "That's ridiculous. All the witnesses said the fish was 22-09, and (he) should be awarded that." Well, I'm not a biologist, but from what I hear, these fish can actually lose weight as they stress out. They regurgitate.
The ranger on the dock watched it spit out food. Jim Dayberry, the ranger, was like, "That's BS, I saw the thing weigh 22-09. He got robbed."
He was a member of the BBRC (Big Bass Record Club) at the time. (
The BBRC would have paid $1 million for a new world record. – Ed.
) We could have caused a huge stink. I'm not going to cause a huge stink of this.
There was a certified scale at Dixon when Jed weighed his fish, but it's no longer there, right?
Before, back when Jed weighed his fish, there was a certified digital scale up on the dock. What happened was, the man that owned the dock and concession stand – his name was Lyle – he got rid of the dock, and apparently the city owns the rights to the concession stand.
Lyle took his certified scale. But after the fact, (lake superintendent) Tony Smock told us they have a digital scale in the ranger station.
| | | |
| --- | --- | --- |
| | | "It's the same bad beating I watched Jed take." – Weakley |
First of all, I didn't know they had that scale. Second, I was not about to go toting that fish all over the place. It's not right when there's a whole circus around with a bunch of people poking at it and lifting it out of the water. When Jed weighed his fish, at the end of the day, at least a hundred people had to pick up Jed's fish just to see it. That's what people aren't looking at here. People want to bring up a bunch of negative crap because it sells, and people are jealous.
The thing they shouldn't discount is the fact the fish weighed 25 pounds. There's no doubt it was foul-hooked, and no doubt it shouldn't qualify, but it weighed 25 pounds.
I looked at some of the comments on BassFan and other sites, and told the guys from ESPN that it looks to be the public out there is looking at this like a 50-50 thing – 50% are wanting this thing to be the world record, then 50% don't.
Mike and Jed and myself talked (Tuesday) night. We said, "We've been doing this a long time, and we know we have the edge as far as breaking the record. We've gotten close so many times, but we've always gone back after the fact and said, 'Forget it.'"
I looked at Jed when his weighed 21-11 and said, "Forget it. We'll go get a bigger one and blow everybody's mind."
So we decided we'll go back out, do what we do well, have a good time, and if we break it, we break it.
I think this thing has gotten way out of control. The thing I want to get across is, let's keep the integrity of it – keep that right there at all times.
I know there's a lot of people out here that do a lot of fishing at nighttime, and a lot of BS stuff. Hopefully, this will push people to do the right thing about it.